Hey guys! How you doin'? Lol
I'm in a pretty good mood today. I got my cousin visiting, so i haven't been around much lately. Sorry for that :S
I've been trying to get back on track with crafting, but so far i'm only on track with sewing, as my damn craft box has gone on vacation. I've turned the house upside down looking for it, but it remains elusive. Damn.
Icons and arts are getting there, slowly. I've finally managed to get a couple done, and have worked on that colouring problem i had, Thanks
kirbyed
You're a star! ;D
Hopefully i'll get some posted by the end of this week, at the latest.
A question to any girls that aren't toothpick sized. .Anyone ever ordered from SimplyBe and found that the size they ordered is way too small, even though it's your NORMAL size from any other store and ALWAYS fits?!
I ordered the most gorgeous biker jacket and a pair of black jeans to go with it. They arrived this morning, i squeed, giggled and rushed to try them on. .THE JEANS DON'T FIT! WTF!? I'm SO pissed. I waited nearly 3 1/2 weeks for the suckers to come and they don't fit. WTH?!
Thankfully the jacket fit or i really would have gone nuts. I'm an impatient cow, i know. But i take after my mum in that sense and i waited ages, you know?
Anyways, their wrapped back up to send back and my jacket is hanging with pride on the edge of my bookcase till i finish saving for that new wardrobe i desperately need. I have WAY too many clothes and too little space, so random things are hung off other bits of furniture for now. Bummer :(
Oh! I've been rewatching skins! And i forgot just how much i <3 Tony from season 1&2! The guy was the total bad boy all the way through season 1, then does a complete 180 for season 2.
Nicholas Hoult is really underrated i think, as i haven't seen him in much else apart from skins really. Anyone know of him in anything else?
Just a couple of things i want to drop you guys to look at. .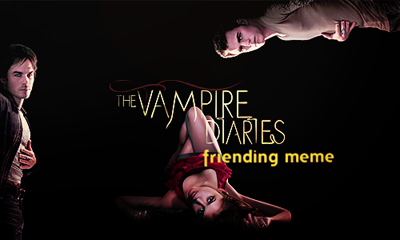 liptease
has done a vampire diaries meme that looks really popular.
You guys should check that out and find yourselves some fellow fans ;D
Team Eric necklaces from
cardinalhouse
@ Etsy.
I'm going to be ordering one i think. They look so awesome and cute!
And of course support my current obsession.
Well one of them, anyway. LOL.
Oh yeah! I tried one of those quiz things for the vampire diaries too!
HEE! Wonder if that means i'll find my Stephan or Damon soon?
I'd love to know what you guys get on it?
Ok, so give me a shout guys. I love hearing from you all!
XOXO
Jen
mischievous

3OH!3 - Starstrukk